Care and Cleanliness Sends a Message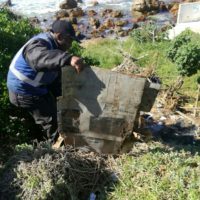 In response to the recent spate of opportunistic criminal  activity on the Muizenberg / St. James catwalk, MID and Metrorail have been cooperating quite closely to look at "red flag zones" in need of attention – both to aid visibility in the area for walkers, and to limit spaces available for opportunistic criminals to hide.
Keeping Muizenberg clean and neat sends a positive message, in much the same way that neglect can send a negative message. By tackling issues like graffiti, illegal dumping, and illegal squatting timeously we communicate to Cape Town that "Muizenberg is a suburb that cares". This has spin-off effects where visitors are more likely to choose Muizenberg as a holiday and recreation area, and criminals are less likely to feel comfortable that they can do as they please in the area.
Towards the end of August it was discovered that there was a group of people squatting in a tent in the area just above the catwalk outside Muizenberg Station. After MID and Metrorail stepped up patrols past the location it seems the individuals living there became disillusioned with their chosen site and moved away – leaving a huge mess in their wake. So on Friday 1 September MID and Metrorail did a joint clean-up of the area:
In addition, they also worked together to clear a site near the railway reserve that was identified as a hideout hotspot – vegetation and waste was removed and Metrorail's Facilities Department is now working on securing the site to ensure there is no further access.
Muizenberg Park is another area where vagrancy is an issue. Over the weekend of the FOMP Spring Picnic 2 September, several squatters were noted in the area above the park. However, on 6 September Law Enforcement had a joint operation in "Area West" which includes the area from Muizenberg through Zeekoevlei. This large group, which included members from Land Invasion and Displaced People's Unit, tackled several hotspots in response to complaints received from the community, including removing 4 structures from Muizenberg Park.
Caring for our suburb is much like caring for one's home: as soon as you turn your back the dust balls and dirty dishes start piling up again! It's something that, unfortunately, requires constant vigilance and ongoing maintenance. You can help by reporting any issues of vagrancy, squatting and illegal dumping to Law Enforcement on 021 596 1999 and to the MID Public Safety on 060 850 6260.
Now that Public Safety and Cleaning have merged it allows for more effective collaboration on the ground.
MID would like to thank Metrorail and Law Enforcement for their invaluable assistance in these operations.
---
The Muizenberg Improvement District [MID] is a geographic area where property owners have contracted to pay a levy to facilitate a joint effort by the City of Cape Town and the local community to ensure more effective management of public areas and to promote business confidence.The MID supplements normal municipal services provided by the City, using its funds to deal with public safety, enhance the environment and address social issues like vagrancy and finding workable solutions for the homeless. The Muizenberg Improvement District is a legal entity established under the City's Special Rating Areas by-law and also governed by the South African Companies Act 2008.
Enquiries: manager@mid.org.za