MID Joint Operation | Putting Names to Faces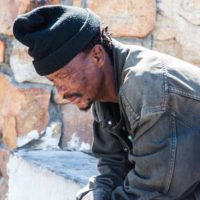 On Wednesday 25 January Muizenberg's Improvement District joined forces with the City and the Department of Social Development to conduct a joint field operation to identify street people and street children in our area.
The team of 16 consisted of Marion Thomas (MID Social Worker), Kevin Rack (MID Social Development Director), Rudy-Leigh Eksteen (City Street People Programme Fieldwork Supervisor), Mikaeel Domingo (Child Protection Social Worker from the Department of Social Development), 9 Field Officers from the City of Cape Town (Street People's Programme) and 3 MID Public Safety Officers.
They met up at Muizenberg Beachfront at 19h30 for a briefing and then headed out, covering a wide area including well-known areas around Muizenberg Village and Beachfront, the Vlei, train stations and Main Road.
Kevin Rack describes the experience:
"It was pretty much dark by the time we set out, but I know a lot of the places where people tend to sleep so we started with those: we went into areas like the reed beds at Zandvlei and those near False Bay station, toilet blocks which are normally kept locked at night but homeless people do find a gap sometimes, we checked pipes near the railway line… You do get dirty doing this job! A lot of the people you come across might be afraid at first that you're there to rob them, but once they realise you're OK they'll talk further with the field workers. Fortunately, there were no incidents while we were out."
Surveys like this one provide a crucial starting point to addressing the issue of homelessness and street people in our suburb: we need to know who is living on our streets and what their individual circumstances and intentions are, so that the right "next steps" can be identified in each case.
Many of those met during the survey were already known to Marion Thomas and MID, but the team did find some new faces. In total 31 street people were interviewed and offered assistance with family re-unification or placement in shelters (when places become available), and several of them will be coming back to follow up on these options. Three children were also removed from the MID area and returned to their homes in neighbouring communities.
Social development and public safety are acknowledged by most improvement districts in Cape Town to go hand-in-hand, and both require strong co-operation between the City, the MID and the public for a successful outcome.
Primary responsibility for solutions around homelessness rests with the City, the Department of Social Development, and Law Enforcement. Those living on the street need to be connected with the appropriate services; but at the same time those services are stretched.
This is where MID social development plays a crucial role: by assisting the homeless to access the services they need to get off the streets; by driving change where City or Provincial services need to be stepped up; and by helping to co-ordinate inter-organizational activities like last week's survey.
Unfortunately, Muizenberg has a reputation as being a soft suburb, with many well-intentioned but misguided residents perpetuating life on the streets: some residents have been sleeping on the streets for decades with no source of income (legal/illegal), but through handouts are able to survive and continue feed addictive behaviour.
Residents are encouraged to work with MID by giving responsibly (to local charities and never directly to anyone on the street), and by putting pressure on local government to provide more resources in our area. Two of the easiest ways to encourage the City's focus on our area are by phoning the City's dedicated call centre for homelessness on 0800 872 201 whenever you identify a homeless issue, and by reporting all bylaw infringements to Law Enforcement on 021 596 1999.
If you would like to discuss this issue in more depth with MID you can contact the Social Worker, Marion Thomas (socialwork@mid.org.za).
*This joint operation was in partnership with the Kalk Bay St. James SRA.
---
About MID
The Muizenberg Improvement District (MID) is a geographic area where property owners have contracted to pay a levy to facilitate a joint effort by the City of Cape Town and the local community to ensure more effective management of public areas and promote business confidence. The Muizenberg Improvement District is a legal not-for-profit company under the City's Special Rating Areas by-law and also governed by the South African Companies Act 2008.
It is within this governance framework that the MID implements its mandate. This is driven by collaboration and the provision of top-up services in four distinct but integrally related areas of cleaning, environmental upliftment, social development and public safety.
The MID collaborates with city and provincial departments, state owned entities, NGOs and a wide range of residents and business people to improve Muizenberg. Improving means 'adding to' not taking away the responsibility for services. Therefore the MID provides strategic direction and puts focused pressure on City and Government agencies whose job it is to police and deliver services.
Enquiries: Chevone Petersen manager@mid.org.za   Cell: 082 463 1525