Muizenberg Festival 10-16 October 2016
Now in its 3rd year, the Muizenberg Festival connects locals and visitors over seven days of music, dance, rapping, art, parades, interactive workshops, markets, poetry, storytelling, historical walks, township tours and soirees.
It's happening in streets and studios around the village from 10 – 16 October.
Organised by the Muizenberg Partnership, the Festival celebrates the creativity of a diverse and vibrant community. Equally it's a space for locals to consider the kind of community they want for the future. Festival talks and workshop topics range from mountain fynbos to False Bay oceanography; building bridges with neighbouring communities; locally produced food and indigenous wisdom.
On Tuesday 11th October) you're spoilt for choice with three musical performances. At 18:00 Jazz lovers should head to Muizenberg Guestique in Holland Rd for a mix of Argentinian, Latin, Jazz and African sounds featuring Muriel Marco on keyboards, Shaun Johannes on bass, Kevin Gibson on drums and Justin Bellairs on Saxophone.  At 20:00 Steve Newman will give a concert at Alive Dance Studio and at Rolling Wood you can enjoy a village soiree featuring Wren and Faye alongside popular trumpet and flugal horn player Kolawole Gbolahan from Lagos, Nigeria.  At 20:00 on Wed 12th Oct  Mthwakazi Lenga will perform her special brand of "Xhopera" at a village soiree. On Thursday 13th Oct classical music lovers can enjoy a morning recital at Casa Labia by pianist, Franklin Larey who will perform works by Brahms, Mozart, Scriabin and Ravel. In the evening Rolling Wood will host a soiree featuring VAN T (Diamond Thug). Please visit the Muizenberg Festival website for ticket details.
Artist, Sue Beatie has an open Mosaic Exhibition daily in Joon Garden,  Palmer Rd and on the weekend you can meet local artists through a self-guided walking tour of the studios of Muizenberg. Happening throughout the week is the Vrygrond experience with local musical, dance performances and historical walks; and  Project Ripple performances which liven up the village streets with art, music and dance. There are talks on Urban Resilience, whales and dolphins; thought-provoking films; historical and mountain tours; boat trips and a guided walk in Zandvlei Nature Reserve;
The weekend is a whirl of activity with the Muizenberg Farmers Market, the Made in Muizenberg Market and performances by  Assitej SA Theatre – all happening  on Saturday and Sunday in Palmer Rd. Saturday celebrates dogs at the annual dog show which raises funds for Mdzananda Animal Clinic and the Animal Welfare Society.
From 18:00 on Saturday evening (15 Oct) Muizenberg's musos, movers and mavericks will come out to play in Project Ripple performances and a Party on Palmer Rd. Fans of guitarist Tony Cox fans can catch him at a Village soiree at Bluebird  Garage at 20:00.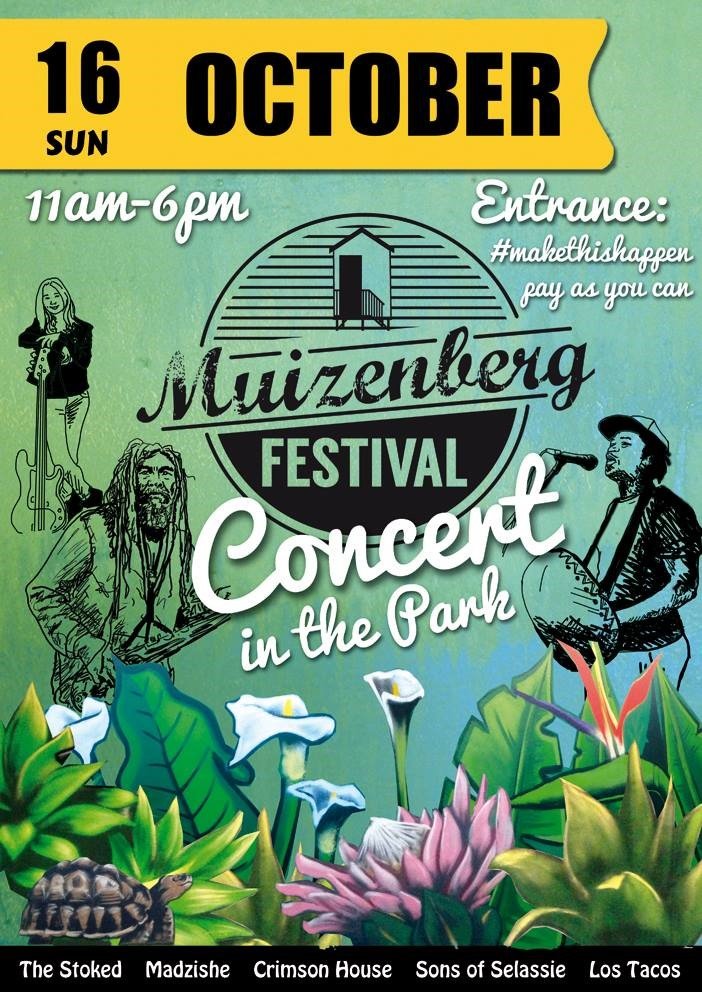 On Sunday 16th the festival culminates with a parade at 11:00 and a Concert in the Park from 13:00. The line-up includes Sons of Selassi, Los Tacos, The Stoked, Madzishe and Crimson House.
Download the Festival map and programme at  http://www.muizenbergfestival.co.za/