FPOs Increase Visible Policing and Yields an Arrest on the Catwalk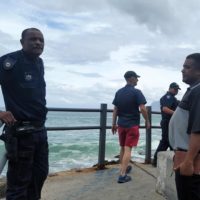 Muizenberg is a destination.  We need to do what we can to support and guide where possible, the strategic implementation of safety measures that will benefit everyone who enjoys the recreational facilities in and around Muizenberg.
It is with this mind-set that the MID has actively engaged with Law Enforcement and Metrorail/PRASA as well as the Kalk Bay St. James SRA – with SAPS ready support joint interventions where resources allow.
Thanks to the recent changes at Law Enforcement Area West, with PI Ramsay at the helm, supported by an experienced and committed team, we are working towards implement measures that will assist with increasing visible policing and safety in and around the MID area (including the Muizenberg St. James walkway). This collaborative effort involves various partners.
A very new addition to resources at Law Enforcement is the Facilities Protection Officers (FPO), lead by top operational commander, Inspector Gelant, based at the Muizenberg Law Enforcement Office.  The FPO squad has already yielded three arrests! The most recent arrest took place on Monday, 12 March at 19:15 where Inspector Gelant and his FPO squad, on a routine patrol, found a suspect crouching in a subway, leading to the Muizenberg St. James walkway, with a concealed weapon.
The MID works closely with Law Enforcement (including the DPU and FPOs divisions) and on 2nd March a joint operation was initiated to address various complaints about activities in and around the upper reaches of Muizenberg Park. This operation was supported by 12 Law Enforcement officers and the MID patrollers and focussed on by-law offences.  18 list compliance notices were issued.
These joint operations will take place regularly, with some supported by SAPS and other enforcement authorities, resource and weather depending. Also, the community auxiliary law enforcement officers, once online, will become key members of these operations within the greater community thereby adding an additional layer of public safety.
We thank our partners and stakeholders for their commitment to collaboration and adopting a solutions driven approach to public safety and crime prevention initiatives.
---
About MID:
The Muizenberg Improvement District [MID] is a geographic area where property owners have contracted to pay a levy to facilitate a joint effort by the City of Cape Town and the local community to ensure more effective management of public areas and to promote business confidence.The MID supplements normal municipal services provided by the City, using its funds to deal with public safety, enhance the environment and address social issues like vagrancy and finding workable solutions for the homeless. The Muizenberg Improvement District is a legal entity established under the City's Special Rating Areas by-law and also governed by the South African Companies Act 2008.
Enquiries: manager@mid.org.za