Iconic Muizenberg Beach Huts | Update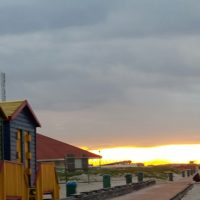 Tuesday 1 August saw much speculation on social media platforms amidst rumours that the Muizenberg beach huts are to be removed. MID rushed to verify this information with the City, and has received clarification on the matter as follows:
"Beach bathing huts at Surfers' Corner will definitely remain a part of the Muizenberg experience" – Cllr. Brett Herron, Mayoral Committee Member for Transport and Urban Development, City of Cape Town

As part of the City restructuring, the management of all beach huts will move to the newly created Transport and Urban Development Authority (TDA) within the next few months.  The discussions around beach huts led to the concerns around a number of dilapidated huts on the eastern side of Muizenberg beach close to the river mouth. These huts are not located at Surfer's Corner.
The dilapidated huts near the river mouth are underutilised and in a state of disrepair, for the following reasons:
They are dilapidated and the doors were removed due to the anti-social behaviour that was happening in the area
The line of huts at this end of the beach poses a public security risk as criminals have been observed using them as a way of ambushing beach users in muggings
The huts are being increasingly used for overnight shelter, or for prostitution or other criminal activities
They no longer optimally serve the public and cost public funds to maintain and secure
Discussions around the future management of the beach huts at Surfer's Corner and the dilapidated huts near the river mouth have been initiated. Whilst no decision on potential removal of the dilapidated huts near the river mouth has been taken, Cllr. Herron confirmed that the TDA is looking at refurbishing the beach huts at Surfer's Corner, Muizenberg, to make them functional once again and useable to the broader public.
Ward 64 Councillor, Aimee Kuhl, has called on the public and civic organisations to submit their written proposals to Aimee.kuhl@capetown.gov.za before 10 August 2017.
The Councillor has committted to gather all ideas submitted to her, and to review these ideas in concjunction with City Coastal Management for consideration.  See more in the below video.
---
The Muizenberg Improvement District [MID] is a geographic area where property owners have contracted to pay a levy to facilitate a joint effort by the City of Cape Town and the local community to ensure more effective management of public areas and to promote business confidence.The MID supplements normal municipal services provided by the City, using its funds to deal with public safety, enhance the environment and address social issues like vagrancy and finding workable solutions for the homeless. The Muizenberg Improvement District is a legal entity established under the City's Special Rating Areas by-law and also governed by the South African Companies Act 2008.
Enquiries: manager@mid.org.za