Senza Amaza | Muizenberg Festival 1 – 14 October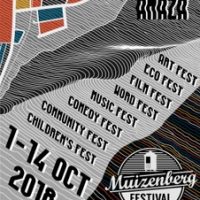 Muizenberg comes alive in October with the 5th edition of its annual festival that celebrates a place brimming with creativity, culture and innovative citizen action.
The Festival takes place between the 1 and 14 October, and features a range of activities, cultural experiences, dialogue, concerts, collaborative public performance, and incredible homegrown art.
This year's theme, Senza Amaza , literally means "We are making Waves".
Demonstrating the greater Muizenberg community's interest in making an impact together and helping to create greater awareness for themes ranging from social cohesion and inclusive enterprise to environmental custodianship and water security.
The first week focuses on the Children's Arts Festival with creative youth development workshops by festival partners, including Hand in Hand Creatives and Jungle Theatre Company. Zandvlei Trust presents the Eco Festival marquee on the pavilion grounds (1 – 5 Oct) that showcases prominent researchers, educators and activists for the environment throughout the day and welcomes all.
The Scitizen Dialogues, a coming together of Muizenberg's science and arts communities, will host engaging dialogues and presentations on the topics of Cape Town's Water Crisis and the Imagining Cape Town's Future.
As a part of the festivities we will be launching First Fridays Muizenberg on 5 October. Just like First Thursdays Cape Town: On the First Friday of each month, many Muizenberg venues, restaurants, galleries, etc. link up to bring a special buzz to Muizenberg's unique atmosphere and bustling streets – connecting the village to the beachfront, and sharing the culture, creativity and thriving enterprise in this iconic seaside neighborhood.
And on Saturday 6 October, the focus moves to Vrygrond, with a programme full of performance, markets, showcases and opportunities to connect to our greater Muizenberg community. All Vrygrond Experience events will be hosted on Vrygrond Avenue, opposite the Vrygrond Community Development Centre.
During the second week the festival presents a series of concerts featuring local artists including Jungle Book Birds, Mixed Mense, Emile Gwenyambira Ensemble, amongst others; at several venues in and around Muizenberg village. Included in the evening proceedings are several film screenings, presentations and comedy nights.
If you're keen to participate or find out more then visit the Festival office at: The Hive, 37 Palmer Road, or email on
info@muizenbergfestival.co.za or alternatively call: 072 365 4440.
Key Information:
---
About MID:
The Muizenberg Improvement District [MID] is a geographic area where property owners have contracted to pay a levy to facilitate a joint effort by the City of Cape Town and the local community to ensure more effective management of public areas and to promote business confidence.The MID supplements normal municipal services provided by the City, using its funds to deal with public safety, enhance the environment and address social issues like vagrancy and finding workable solutions for the homeless. The Muizenberg Improvement District is a legal entity established under the City's Special Rating Areas by-law and also governed by the South African Companies Act 2008.
Enquiries:  manager@mid.org.za